This post brought to you by Quaker Oats. The content and opinions expressed below are that of Stuff Parents Need.
School has been out for my kids for a week and a half, now. We spent a week of that time at the beach, and have only been hanging out at home for 3 full days Any guesses how many times I have heard, "Mom! I'm bored!"?
The answer is TOO MANY TIMES. I've had to explain to my kiddos that boredom is actually the birthplace of imagination, so it's good to be bored. But I've also discovered that in many cases, that plea of boredom is a thinly veiled disguise for a request for me and/or their dad to play with them. And playing with my kids is honestly something that I need to remember to do more often.
Quaker Chewy understands the needs for families to play together, so when they reached out to ask me to talk about getting adults and kids to play together this summer, I knew this would be the perfect opportunity to put together a playdate that was for kids and adults alike.
We were recently with all of the cousins on my husband's side of the family, a fun group of 7 girls and one baby boy. Since we all live so far away from each other, we only get together every other year, which makes our time together very precious. Every adult wants to get to spend special time with each of the kids, and play is one of the very best ways to do that. Here are a few key tips I have for making a playdate inter-generational, and not strictly for the kids.
Find a Larger Space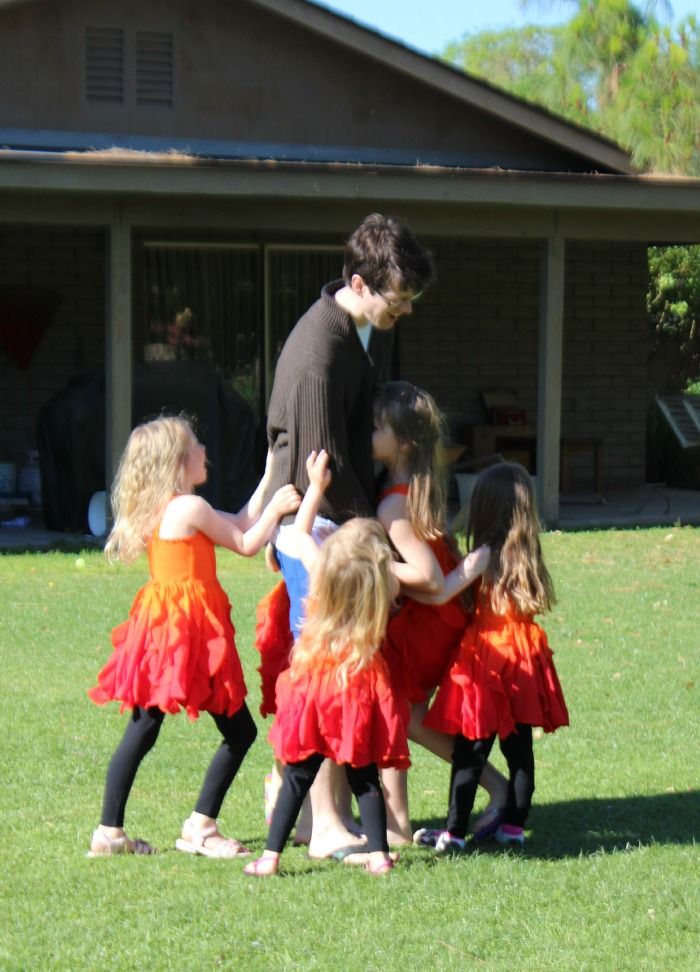 We were fortunate to have access to a very large back yard that was fenced in and even had a grove area, as well as a huge open space for running. A larger park or green space can work in a similar way. I found that giving people lots of room to run around meant that lots of running around actually happened, and it provided enough space for kids and adults to participate in different activities at the same time, just depending on their interest. But the big space certainly didn't keep the kids from gathering near each other, as Uncle Tim experienced!
Provide Yummy Snacks (and Don't Hide in the Kitchen!)
It's well-known that food brings people together, so be sure to have a snack assortment that is pleasing to the eye AND to the body! I put this tray of Quaker® Chewy® Granola Bars (with 8 grams of whole grains per bar) and fresh fruits and veggies together in just 3 minutes and it was a huge hit. I wasn't stuck in the kitchen making food while everyone else was hanging out, and I felt good about what I was serving. I had a variety of Quaker Chewy Granola Bars (Chocolate Chip, Chocolate & Salted Caramel and Caramel Popcorn Crunch) so everyone could pick their favorites. 
So what did the kids think about the snacks? Well, just look at their reaction to being told it was time to refuel! 
Games: A Little Planning Goes a LONG Way
I fully admit that my personality type would feel comfortable scheduling out a playdate in 15 minute increments, and then drilling right through that list. This is not a strategy I would recommend, though! Kids need the freedom to spend more or less time on activities, depending on their moods and interest. Something as simple as a flower they find might entertain them for 30 minutes, as it did for one of my neices. I couldn't have planned that, I assure you!
Still, it's good to have some interesting options on hand and not leave the playdate entirely up to the kids to figure out. I recommend having a few new items offered up so that every child and every adult can have the fun experience of playing with something new. Look for items that promote active play, such as a cool new ball (go for something unusual, like the one pictured below), a bubble machine, or might I even suggest a stomp rocket?
Each of these items was played with by everyone, but the stomp rockets stole the show. The children couldn't resist, and neither could the grown ups. I suppose it brought out the kid in each of us!
Don't Put the Snacks Out Right Away
I know from experience that when snacks are presented first thing at a playdate, it tends to slow everything down. Kids and adults will gravitate toward the food, and the adults, in particular, might struggle to get out of their chairs once they are comfortably seated. At least that's how I am! The kids will also be back in an hour asking for more snacks, I promise! Save the snacks for the midway point or beyond, once everyone has worked up an appetite. Let the snacks be fuel for round 2 of play instead of a stumbling block to get to round 1.
Your Turn to Play
Friends, there has never been a better time to get inspired to play with your kids! Right now, Quaker is hosting an incredible Keep Playing! With Chewy promotion, and you have the chance to win $25,000 to make over your family play space. Let me repeat that: $25,000!!!
Entering is simple: visit www.ChewyKeepPlaying.com and submit a photo of where your family likes to play, and how you'd loved to see the space made over and why. I'm definitely entering and showcasing our backyard, which could certainly use some love to make it more inviting for play, more like the yard where we got to have our awesome playdate! The contest runs until June 13th and in addition to the grand prize, there will also be weekly winners for a $500 gift card. This promotion is definitely not-to-miss!
Your Turn to Win!
Win it!: One lucky Stuff Parents Need reader will win an amazing Quaker Chewy Playdate package, valued at $100 and including the following:
A Chewy Playdate invitation pack to plan your next playdate
A classic Bocce Ball set for endless hours of outdoor summer play
A Gazillion Bubble Monsoon bubble machine for the whole family to enjoy
Sidewalk chalk set to get creative outdoors
A puzzle perfect for indoor or outdoor play
A red storage bin for storing your family's favorite toys
A NERF Bash Ball for easy family fun
A variety of Chewy Granola Bars to help fuel family play, including, Big Chewy Sweet & Salty Bars and Chewy Granola Bars Variety Pack
Quaker is providing the prizes for this program at no cost to me. This program is not administered or sponsored by Quaker or its affiliates, but solely byStuff Parents Need