This post brought to you by NECTRESSE™Sweetener. All opinions are 100% mine.
When my BFF visited me last month, she told me that she had successfully made the switch from sugar in her coffee to something more natural. I was really intrigued, because I knew at that time that my coffee addiction was a significant barrier to my weight-loss, and all because I like my coffee to be sweet.
There are LOTS AND LOTS of sugar alternatives on the market, and my head started to spin as I researched them to determine what I wanted to try.
But one caught my eye in particular, because it was the only 100% natural sweetener made from fruit. To be more specific, it is made from monk fruit! (I've never heard of it, either, but it is a real fruit, I promise!).
Check out NECTRESSE™Sweetener, which is made from the makers of Splenda. This product is 150 times sweeter than sugar(!) and has zero calories. Now that's refreshing!
It comes in canisters as well as single serving packs. I make a pot of 6 cups of coffee each day (I know…but I do make my coffee weak, at least), and I like to pre-sweeten my coffee while it is still hot (remember, I'm an iced coffee freak, so my coffee needs to be cold before I drink it!). I decided to use a crazy small amount of this product to see how it tasted, fully assuming that I'd be adding more. I added just two individual packets to my 6 cup carafe. And guess what? I was pleased with the taste! Yeah, I didn't even need to add any more! But if you were to try it out and determined that you wanted another packet or two, go for it since that will add zero calories to your drink!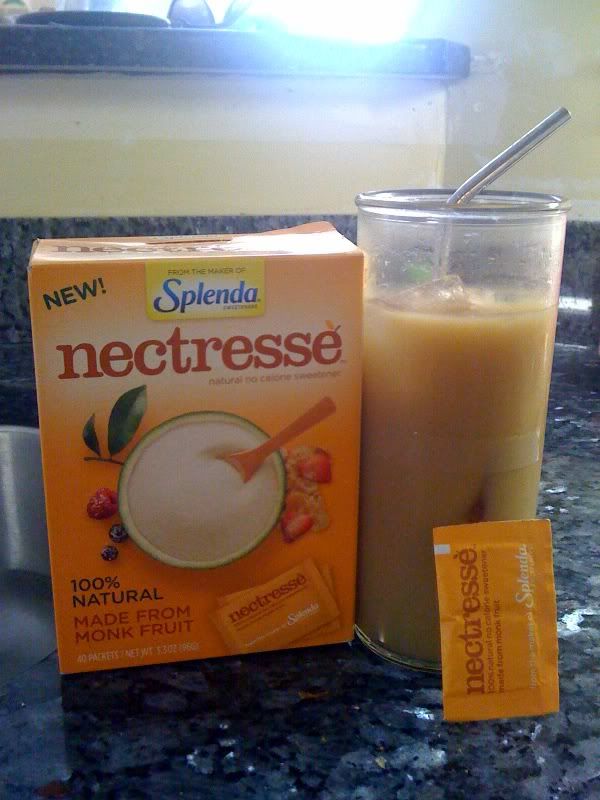 I like that my iced coffee has a naturally sweet flavor. If someone had served it to me like this I would not have guessed that it didn't contain sugar. Way to go, Nectresse!
For those of you who grew up with Channel One in your middle school and high school classrooms, you may well-remember the celebrated journalist and tv personality Lisa Ling. She is also a huge fan of Nectresse. Check out what she has to say about it!
I think you will really like Nectresse if you give it a try. But why not start out with a FREE sample of NECTRESSE™Sweetener? I think you'll be pleased!